One year ago, the yogurt giant Danone merged with the organic and plant-based food giant WhiteWave, the company behind brands like Silk, Horizon Organic, and Earthbound Farm. Today, the new company, now called Danone North America, became the largest certified B Corp in the world.
The B Corp certification–which measures a company's environmental and social performance in detail, from carbon emissions to diversity, and then requires companies to share those results and adopt a new legal status–is something that has mostly been pursued by companies better known for their social missions. Patagonia is a B Corp. So are Ben & Jerry's and Seventh Generation, and social enterprises like Toast Ale, which brews beer from bread that would otherwise be wasted.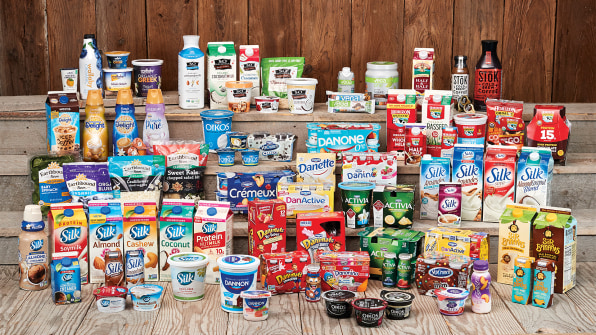 But the nonprofit B Lab, which does the rigorous assessments for the certification, has a broad vision: that "one day all companies compete not only to be the best in the world, but the best for the world." It wants its roster to be more than a niche. Danone, it's hoping, will help lead other massive corporations to make the shift.
Danone North America's parent company, France-based Danone, started thinking about social impact early; in a 1972 speech, the company's founder said "corporate responsibility doesn't end at the factory gate or the company door" and industry should be "placed at the service of people." Other subsidiaries of the parent company, including those in the U.K. and  Spain, have already been certified as B Corps. The North American company, with more than $6 billion in revenue, will just be larger.
When the company merged with WhiteWave in 2017 (first as DanoneWave; the name has now changed to Danone North America), it incorporated as a public benefit corporation–a legal status that requires companies to have a purpose beyond profit, and consider stakeholders, not just shareholders, when making decisions. Companies that choose to become certified as B Corps also need to eventually take this legal step; Danone did it in advance.
"We see the public benefit corporation status as being a critical piece as to who we are and how we operate at the fundamental level," says Deanna Bratter, director of sustainable development at Danone North America. The company wanted to be certified as a B Corp, in addition, to use as a tool to assess itself and to get validation from a third party about its progress. "We feel that certification adds a level of trust and a value, in terms of we're not just saying this is our intention, we're actually proving it through the rigorous assessment as well as the transparency requirements."
The assessment collects data like the percentage of managers who are evaluated on social and environmental performance, how much vacation time employees receive, and how much on-site renewable energy facilities use. As a complex organization, Danone North America had to fill out six different assessments. Some of its programs–including global funds that invest in environmental and social projects–didn't fall into existing categories, so the company also worked with B Lab to help make the certification more applicable to large companies.
The company is working on sustainability in a variety of ways. It purchases renewable energy offsets for its own production facilities, and balances its water footprint by restoring water to streams. Redesigned bottles for the brand So Delicious use 80% sugarcane, rather than fossil fuels, to make recyclable plastic. A new $6 million project is researching how dairy farmers can improve soil health to capture carbon. To avoid waste, extra greens from the Earthbound Farm brand are dried and used by Vega, one of the company's other brands, for use in nutritional products.
When it went through the certification process, the company scored an 84.9 out of 200. "If you think of it as compared to the other 70,000 companies that have used our impact assessment, the average score for those companies–who have opted in to use this tool–is in the low 50s," says Bart Houlahan, co-founder of B Lab. "So for Danone North America to come in at 84.9, it's quite remarkable."
Of course, it's also a long distance from a perfect score, and some of the company's issues may not be reflected. Ed Maltby, head of the Northeast Organic Dairy Producers Alliance, told Fast Company that farmers who previously sold to WhiteWave have been paid less for their milk since Danone purchased the company, and small farmers in more isolated locations–where dairies are key to the industry–have lost contracts since the takeover in favor of larger producers. (Danone says that the organic dairy business has been experiencing oversupply, and after asking farmers to voluntarily reduce their output, it was forced to cut costs.) Passing the assessment itself doesn't equate to being a perfect company; bottled water companies with a high enough score, for example, can be certified after some extra diligence, despite the sustainability challenges inherent to bottled water. Danone's parent company owns Evian and other bottled water brands, though these were not included in the assessment since they aren't part of Danone North America.
But that parent company, Danone, is now aiming to be the first multinational corporation to get the certification. With Danone North America and other subsidiaries already certified, it's roughly a quarter of the way there. The work is "charting a new pathway for multinational public companies to engage with this movement," says Houlahan.